Indulge your taste buds and your conscience with our thoughtfully curated selection of sustainable chocolate brands. We believe that a treat as sweet as chocolate should also be a treat for the planet and its people. That's why we've partnered with brands that share our commitment to doing good.
Each chocolate brand we carry is a testament to our dedication to supporting ethical practices. With a focus on responsible sourcing, fair trade, and environmentally friendly production, these brands are a beacon of what's possible when taste and values unite.
Harold Import HIC – Family Owned Since 1957
Each and every day at HIC Kitchen, they aim to offer the highest quality products at the best prices to home cooks everywhere. It's been their mission since day one back in 1957 and is the very heart of their family-run business.
Mrs. Anderson – Quality Trusted, Baker Approved!
Georgette Anderson is one of America's most innovative home bakers whose expertise and creative spirit are at the heart of Mrs. Anderson's Baking collection. From a perfect pie crust to delicious cookies cut into a variety of beautiful shapes, Mrs. Anderson's Baking provides you with precision, instruction, and tasty inspiration. With Mrs. Anderson in your kitchen, you will soon be pulling a tray, pan or tin or buttery goodness from your oven.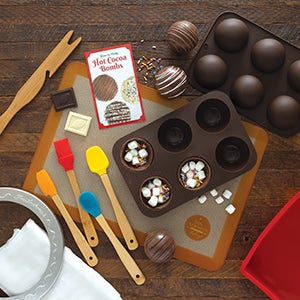 Helen's Asian Kitchen – Dedicated to the Art of Eastern Cooking
Helen Chen is a leading Asian culinary expert, cookbook author, cooking instructor, and developer of Helen's Asian Kitchen® cookware and cooking tools. Helen learned to cook from her mother and has combined the comfort of home-style dishes with updated incorporation of heart-healthy oils and readily available market ingredients—making cooking great Asian food easier for everyone. Helen Chen's unique line of Asian cooking & kitchen tools were developed through many years of culinary experience and provides the kind of high-quality standards that you can expect from Helen's Asian Kitchen.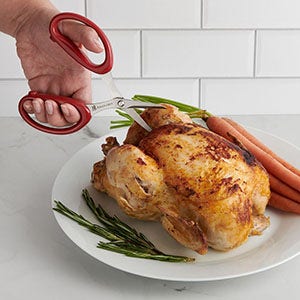 Fante's – Family Owned Since 1906
Straight out of Philadelphia's historic Italian Market, Fante's Kitchen Shop has been synonymous with Italian cooking for over 100 years. They've now poured those years of experience from the store and the kitchen into their signature line of Italian cooking tools and accessories. Fante's blends old school craftsmanship with today's technology for a collection that would make their ancestors proud. We hope they inspire you and your family to cook and enjoy wonderful Italian meals together.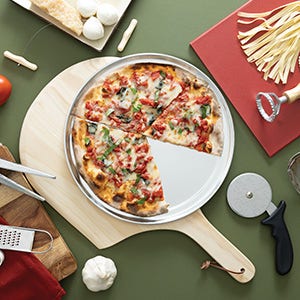 Beyond Gourmet – Kitchen and Household Products that Have a Minimum Impact on Our Precious Environment
At Beyond Gourmet, they are committed to providing environmentally friendly kitchen and household products that help protect our precious resources through the use of reusable, sustainable materials and manufacturing processes.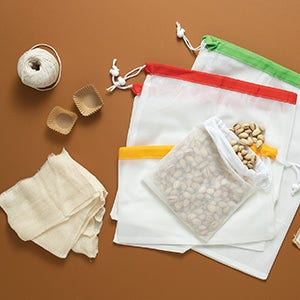 Cutlery Pro – We Are the Professional for the Professional
For nearly 40 years, the Cutlery-Pro tradition of excellence has elevated the brand to cult status among professionals. Dedicated to using world-class materials, the Cutlery-Pro line offers a full range of cutlery that is now available to inspire home chefs to new heights.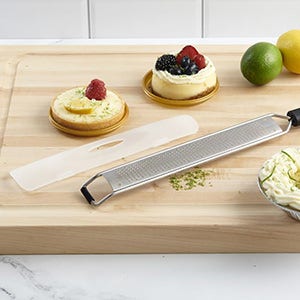 Maine Man – Bringing the Flavors of the Sea to Your Table
The growing collection of Maine Man Seafood items brings the flavors of the sea to the table. Comprised of the essential tools needed for shucking oysters, cracking crabs, flipping fish, eating lobster, and beyond, Maine Man branded items are the superstars of the sea – and the kitchen.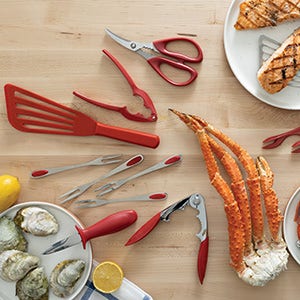 Fino – Crafting a Fine Cup of Coffee
A delicious cup of coffee requires a mix of quality coffee beans that are properly roasted and ground – THEN properly brewed. That's where Fino comes in. The Fino collection of brewing tools and accessories ensures an authentic cup of espresso or coffee will land in your cup.
Featuring iconic designs, coupled with quality construction, at unsurpassed value, Fino takes care of the finer details of brewing. Each item in the Fino line is designed to elevate the coffee brewing experience, so that you'll enjoy consistent, quality and delicious results every time.
Join us for a delicious cup of coffee, or espresso, and enjoy Crafting a Fine Cup of Coffee with Fino.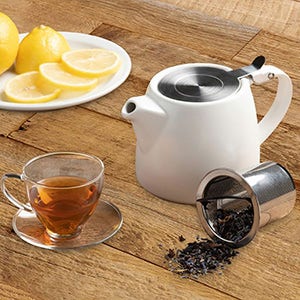 EVO – A radically new way of spraying your oils easily, simply and economically
Bringing innovation to home and professional kitchens since 2013, the EVO Oil Sprayer was the first, non-aerosol sprayer that atomized oils, without pressurization and propellants – a technology that eliminated the need for a large number of aerosol dispensers. The advanced technology within EVO was then married with an ergonomic design provided by Michael Graves Design Group, giving home and professional chefs the ability for more control when dispensing any cooking oil or vinegar in a unique fan pattern — without using harmful propellants or chemicals - and without clogging. Evo enhances your cooking with the pure, healthy, and safe oils of your choice, ensuring healthier and more accurate recipe measurement, resulting in much less waste making. Clearly, EVO is one of the most essential tools for any home or professional kitchen.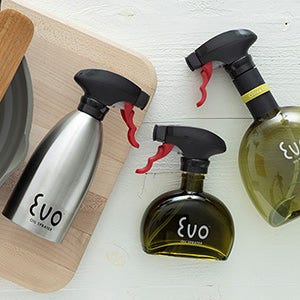 ---