As the next annual Frontier Co-op Board of Directors elections approach, we want to offer our members the opportunity to participate in this summer's election not only as voters, but as candidates as well.
If you are considering being a candidate for the Frontier Co-op Board of Directors, please read carefully the Board candidate information below. If you need additional information, we are happy to have you email us.
To apply to be a Board candidate, please submit your resume and a brief cover letter explaining your interest in the Board to our Nominating Committee at: Board Nominating Committee; Frontier Co-op; P.O. Box 299; Norway, IA 52318
You may also submit your resume and cover letter via email.
The deadline for submissions is February 1st. The Nominating Committee submits its recommended slate of candidates to the full Board for approval in April, and member voting begins in July.
FRONTIER CO-OP BOARD CANDIDATE INFORMATION
Both the Board and Management Team appreciate your interest in being a member of the Frontier Co-op Board of Directors. The goal of the Nominating Committee is to provide members with a slate of candidates that reflects a broad range of experience in areas such as finance, business management, organic agriculture, co-op organization and the natural products industry. Your participation helps us find the best possible candidates to ensure effective governance, financial oversight, and strategic support for Frontier.
Eligibility: Per Frontier's bylaws, candidates must be "formally associated with a member organization which may include being a member, shareholder, director, trustee, officer, employee, partner or proprietor." Additionally, "no Director shall be associated with interests adverse to Frontier."
Board Make-up: The Board is made up of nine people, six member-elected Directors, two at-large Directors selected by the Board and an automatic position of Management Director filled by Frontier's CEO.
Meetings: There are three in-person meetings per year, two held at company headquarters in Iowa and the other at a location to be determined. Phone conference calls are scheduled five times with additional calls as needed.
Committees: There are three standing committees: audit, governance and executive. Board members are required to participate in at least one standing committee.
Terms: Member-elected Directors have three-year terms and at-large Directors have two-year terms. Terms are staggered so approximately the same number of Directors are elected each year. Terms begin 20 days after voting ends.
Compensation: A yearly stipend is provided, and travel, meals and other Board-related expense are reimbursed.
Timeline: The Board Nominating Committee finalizes nominations in April and voting begins in July.
2024 Board Candidate Criteria
Candidates with a history of establishing strategic direction and guiding organizational development for companies or other entities
Candidates that maintain or grow diversity, and skills on the board
Candidates with proven analytical judgment, problem solving and leadership capability
Successful candidates must have the following fundamental capabilities:
Solid grasp of fundamental financial principles
Ability and commitment to participate in meetings and lead projects, both at the board and committee levels
Candidates that are aligned with Frontier's mission and values, and have experience with mission driven companies
Good communication and team work skills
Connection to Frontier Co-op in some way – stock holder, member of buying group, etc. (added June 13, 2016)
Frontier Co-op Board of Directors Updates 2019-2023:
September 2019: Leah Bailey fell off the board due to a conflict of interest. In December, the board voted to move Dean LaVallee, who was previously an At-Large Director, into Leah's Patron seat.
February 2020: The Board of Directors appointed Sarah Bird to fill the empty At-Large position.
September 2020: Jesse Singerman, our most tenured board member, retired from the board. Deb Eschmeyer was elected to replace her in her Patron seat. Pedro Garcia was also re-elected to his Patron seat, and Kevin Malchoff was re-appointed to his At-Large position.
September 2021: Sarah Bird and Phil Meldrum were re-elected to their Patron seats, and Tom Stokes was re-appointed to his At-Large position.
September 2022: Kevin Malchoff and Lindy Bannister were re-elected to their patron seats, and Dean LaVallee was appointed to the At-large position.
September 2023: Pedro Garcia was re-elected to his Patron seat. Deb Eschmeyer fell off the board and Kim Wagner was newly elected to replace her Patron seat.
GET TO KNOW THE BOARD
PHIL MELDRUM

Phil began his professional career in 1979 managing a specialty food store and has worked in the culinary field ever since. In 1996 Phil founded FOODMatch to distribute healthful, authentic, responsibly produced Mediterranean food. FOODMatch is still family owned and operated and has become the preeminent producer and importer of Mediterranean olives, antipasti and ingredients in the United States. Phil is closely involved in community organizations that fight hunger and promote healthy eating, such as urban pantries and community outreach centers.
Occupation: Founder and President of FOODMatch, Inc., producer of Divina olives and antipasti.

What made you want to join Frontier Co-op's board?
The two-fold mission to craft responsibly made, best-in-class products while simultaneously supporting and uplifting a global community of growers and makers directly aligns with the mission of FOODMatch, the company I founded in 1996. Whether you are curing Kalamata olives in a small village near Sparta or sourcing sustainable Korintje cinnamon from Indonesia, it is vital to bring transparency and fairness to food categories that can be muddled with misinformation and misrepresentation.

What makes our mission meaningful to you?
Now more than ever, food producers are becoming acutely aware of the importance and value to supporting small-scale agriculture across the world. I view it as one of the keys to achieving biodiversity and protecting the planet. The mission to bring healthy, delicious food to people's table without compromising ethics or quality is invaluable in today's marketplace.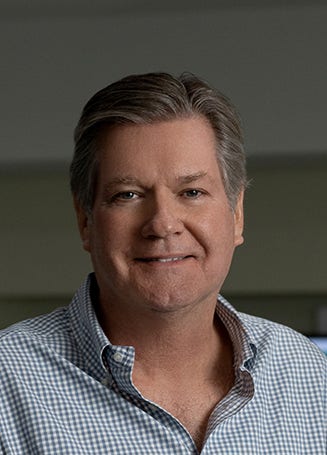 Which of the seven cooperative principles resonates best with you and why?
It can be argued that all seven cooperative principles ultimately rely on just one for sustained success: concern for community. A healthy and vibrant community where deep connections are formed and different perspectives shared is the foundation of a full and enjoyable life. More often than not, these experiences take place around a table brimming with delicious food and drink. The connection and understanding from these moments are especially valuable today as many of us are more carefully listening to the issues happening in our society.

What qualities make a great board member? What's something you would like members to know about you?
A great board member, like any great collaborator, understands the value of listening and learning while also sharing their unique expertise and experiences. Collaborating with the impressive Frontier team to puzzle out challenges as markets shift (without compromising the core values or product quality) is a unique challenge you must be willing to take on with a sense of purpose and verve. I have a deep pride in being a small part of Frontier's mission.

Please list anything else you would like to share with our membership.
Every time you decide to support Frontier by purchasing one of their products you are making the critical choice to support growers who have passion, dedication to their craft and shared values of protecting our environment while providing a living wage. Purchases of Frontier products offer the rare opportunity to deliver pleasure while also doing the right thing!
---
DEAN LAVALLEE
Dean has more than 25 year's experience in the food industry spans, including leadership roles in accounting, financial planning and analysis, and manufacturing. Since 2011 he has been Chief Financial Officer responsible for Finance and Information Systems for Blue Diamond Growers, the world's largest grower-owned almond cooperative. Blue Diamond, which is headquartered in Sacramento, California, has grown to $1.7 billion in sales, doubling in revenue since 2011. Dean holds a Bachelor of Commerce Degree from Laurentian University in Sudbury, Ontario, Canada, and the professional accounting designations CPA and CMA. He currently lives in El Dorado Hills, California, with his wife Cheryl.
Occupation: Chief Financial Officer, Blue Diamond Growers

What made you want to join Frontier Co-op's Board?
Frontier's mission, values and cooperative structure were the key factors in my decision to join the Co-op's Board. As a CFO of a cooperative with extensive experience in Finance and Food and Beverage, I believed I could add value to both the Co-op and our Board.
What makes our mission meaningful to you?
Nourishing people and plant, and always be fair is meaningful to me as a represents a conscience balance in all decisions. It ensures a 'win-win' outcome and an attempt to leave all stakeholders in a better position.
Which of the seven cooperative principles resonates best with you and why?
Three principles resonate with me the most: Democratic Member Control, Members' Economic Participation and Concern for the Community. These speak to me of doing what is best for all stakeholders, balanced decision-making, sharing in the success of combined efforts and giving back to our communities.

What qualities make a great board member? What's something you would like members to know about you?
My many years of combined exposure in finance, food and cooperatives provide me with the experience to help add value to Frontier's members and management.

Please list anything else you would like to share with our membership.
My wife, Cheryl and I love to cook. Frontier spices help us both do it with flavor and allow experimentation.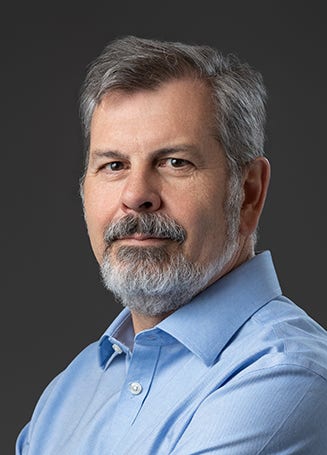 ---
KEVIN MALCHOFF
Kevin grew up in Sodus, New York — a small farming town on the shores of Lake Ontario — where his first job (at age 8) was picking cherries for 50 cents a pail. He went on to receive his BS degree in Agricultural Economics and then his MBA in Marketing from Cornell University. Kevin has spent his entire career in the food industry where he held various leadership positions within Rich Products Corporation. Kevin is a past Chairman of the National Restaurant Association Educational Foundation which has a keen focus on helping high school students prepare for a career in the hospitality industry. Additionally, he remains active at Cornell University serving on the Dean's Advisory Council for the College of Agriculture and Life Sciences.
Occupation: I am retired after 39 years with Rich Products Corporation, where during my career I had the opportunity to lead its Foodservice Division, its U.S. and Canada Business Group, its International Business Group and finally its Business Development Group (Mergers and Acquisitions). I am still on the Board of Directors of Rich's.

What made you want to join Frontier Co-op's Board?
I really enjoy "the business of business". Additionally, I have been very active in many non-profit organizations focused on helping those in need. When presented with the opportunity to be on the Frontier Board, it felt like a perfect fit. Frontier presented a wonderful opportunity to be part of a business leadership team that not only focuses on business and drives hard to achieve stellar financial results, but it is also committed to use some of the profits it generates to benefit struggling families and communities around the world.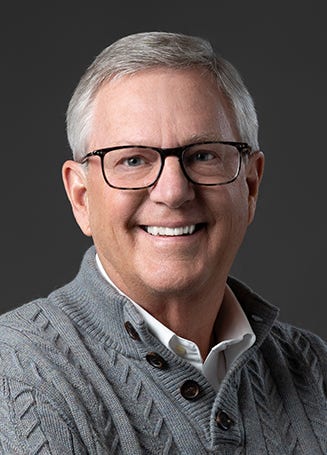 What makes our mission meaningful to you?
One thing that a lot of people don't know is that when I was in high school I was fortunate to be an exchange student and live with a family in Paraguay. While there I attended school with my "host brothers and sisters". Though the family I stayed with was well off financially, I witnessed levels of poverty that I had never seen before. It was at that point that I became committed to continually be involved and help organizations that are making a difference in others' lives. Some organizations I have been most involved with are Cornell University's College of Agriculture and Life Sciences, Enactus (a global college student organization that is dedicated to developing the next generation of leaders who help develop businesses that can be led by people in need), and our church.
Many companies have a "social responsibility" statement. However, Frontier goes so much further. Frontier embodies and lives by its mission statement each and every day. I am very proud to be part of an organization and have learned a lot from Frontier's leadership team and other Board members who are care so much about helping others.

Which of the seven cooperative principles resonates best with you and why?
Frontier's "Concern for Community" resonates best with me. There are people in our local communities, our states, the U.S. and around the world who struggle in different ways. Many don't have enough food to eat or medicine to help keep them healthy. Others face family or community struggles where they do not have the same opportunities as others. I believe that governments should do what they can to help others. However, at the same time, I believe that as much as we'd like, governments can't help everyone with everything that they need. Therefore, it is incumbent on people, you and me, to step up and make a difference where we can. Frontier has made a huge difference in the lives of others and I am certain that it will continue to do this in the years ahead.

What qualities make a great board member? What's something you would like members to know about you?
Frontier is fortunate to have a tremendous Board. I believe that qualities that are important for board members are:
To be totally committed to the success of Frontier
To use their past business and life experiences to help the management team.
To be an active listener and learner.
To be able to critically review Frontier's strategic priorities and provide feedback.
To live up to the fiduciary responsibility that is expected of all board members.
To be respectful of others' thoughts and opinions.

Please list anything else you would like to share with our membership.
On a personal note, my wife, Cindy, and I have been married for 46 years. We have 3 kids and 7 grandkids. As I am writing this, five of the grandkids are at the house getting ready to eat some pizza and have some tortilla chips and Simply Organic guacamole dip. They love it!!! Simply the Best!
---
SARAH BIRD

Sarah is fueled by a passion for doing well and doing good. Prior to Beyond Broth, Sarah was CEO of Bhakti, Inc., the #1 selling chai in the natural channel. Before that, Sarah had a variety of sales and marketing leadership roles: Chief Sales and Marketing Officer at Three Twins Organic Ice Cream; Chief Commercial Officer at Ecologic (sustainable packaging company); CMO at Annie's, Inc. (from when Annie's was a small mac and cheese company thru its IPO and up to the General Mills acquisition). Sarah began her career with marketing roles at Frito Lay, followed by Nestle and then PowerBar. Sarah loves all things outdoors – her passions are running, hiking, sailing and skiing. She also loves to cook and lose herself in a great book while savoring a cup of Beyond Broth.
Occupation: CEO, Grace's Good Food, dba Beyond Broth.

What made you want to join Frontier Co-op's board?
The true "goodness" of the Co-Op: incredible quality of your products, your commitment to giving back and to stewardship, the strength of your leadership team (I had the pleasure of working with Tony on the Organic Trade Association (OTA) board) and the balance of the board, some of whom I previously had the pleasure knowing and for whom I have great respect.

What makes our mission meaningful to you?
I believe companies can be a force for good and I want to work on businesses that are doing good work!

Which of the seven cooperative principles resonates best with you?
Members' Economic Participation — this resonates best with me — the idea that everyone has a vested interest/benefit from the success of the businesses.

What qualities make a great board member?
Listening, sharing expertise when needed, being strategic and focusing on big picture/long term, and being wise counsel and support for the management team while allowing them to run the business.

What's something you would like members to know about you?
I grew up in Maine and that is my happy place, although I am now mostly in California, and that is a wonderful spot too!

Please list anything else you would like to share with our membership.
I am truly honored to be on this board!
---

LINDY BANNISTER

Lindy has just recently returned to her passion of being directly involved in retail operations, taking the position of CEO of a group of natural food stores in North Carolina. Food Matters Market is a member of Independent Natural Foods Retailer Association. She just left her Region Manager position with INFRA after 8 1/2 years there. From 2005 to 2012, she was the General Manager of The Wedge Community Coop (a long-time Frontier member) in Minneapolis, Minnesota. She held a number of food-related jobs previous to that, including owning her own restaurant on Vancouver Island in Canada and working in conventional grocery for 21 years, eventually running stores for Albertsons and HEB across the western US and in Texas. Her commitment to cooperatives is an expression of her personal business ethic of treating everyone fairly and doing the right thing without calculation, "just because it is the right thing."
Occupation: Region Manager, INFRA (Independent Natural Foods Retailer Association).

What made you want to join Frontier Co-op's board?
At the time I was approached to see if I was interested in the Frontier Board, I was the General Manager of the Wedge Co-op in Minneapolis. Frontier was a very important partner to us. I felt our values aligned and I thought I could bring a strong retailer perspective to the organization.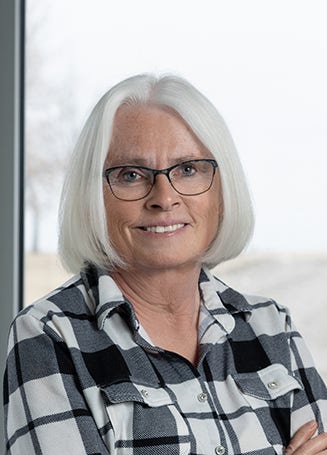 What makes our mission meaningful to you?
Frontier's mission resonates in my work too. From the dirt to the consumer, Frontier takes care of people and the planet. Product testing, supplier compliance, and inspections keep the products safe. Treating people with respect and always being fair is the right way to treat our Earth and all of those connected to us.

Which of the seven cooperative principles resonates best with you and why?
My favorite Cooperative Principle is P3. Cooperation among Cooperatives resonates with me. Frontier works directly with many producer coops and sells to many consumer coops. I work at a purchasing coop and our retail members buy directly from Frontier or through their distributor partners. It makes a strong connection. Coops everywhere work for the good of the people. Strong connections with our suppliers and helping out along the way is a great way to work. There are so many stories to tell that resonate with the consumer. As consumers, we are all wanting to know more about our food and where it comes from. Frontier can tell that story with pride.

Concern for Community is my other one. Frontier can talk about the good they give back to the people and places they work. From schools built to training centers, from building wells, to our Simply Organic Giving Fund and our Well Earth program. No one does it better. It doesn't always have to be concern for our partners abroad or in other parts of the US. Right at home Frontier is giving back. Tony has Frontier very involved in the cities that our plants and warehouses sit in and IOWA is much better off having a company like this in their state.

What qualities make a great board member? What's something you would like members to know about you?
I enjoy my work with the Frontier Board. I feel that as a retailer myself for many years and now working with a large number of Independent retailers across the country, I see and hear daily the struggles and strengths of our stores. I can bring concerns or trends to the board. I feel that one of my roles is to be a resource for Tony and the management team as "boots on the ground". I've served 4 years as the board president and navigated through some very interesting times.

Please list anything else you would like to share with our membership.
I encourage all of our members to stay involved in knowing your co-op. As a member you play a large part in the organization. Your voices are listened to, and we want you to get the most out of your membership that you can. Ask questions, participate when asked and know that we all thank you for your ongoing and strong support. Frontier does this work for you, the members.
---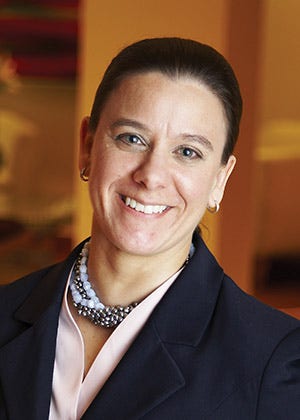 ---
PEDRO GARCIA

Pedro works closely with privately owned food companies, especially in the natural and organic products industry, to support their financial and strategic wellbeing. He started his career working in Wall Street firms; he now runs his own specialized merchant banking firm.
He has been a board member at Frontier for more than 15 years and continues to be enthusiastic about the positive impact that the co-op makes for consumers, growers, and employees. He is motivated to build an enduring enterprise that will support its members into the future.
Pedro and his wife Karen live in New York and have two grown daughters.